FISHERMAN SAFETY :
Coastal states have noted an alarming increase in disappearances at sea of their fishermen over the last few years.
The two main reasons are:

A diminution of resources which obliges the fisherman to go ever further afield to get his catch.


The absence of safety equipment aboard their vessels, such as communication and location apparatuses.
To know who is at sea it is necessary to identify dugouts singly and individually.
Now, numerous dugouts share the same identification number to cut down the cost of fishing licenses.
The need to identify dugouts individually became self-evident in order to determine unambiguously and at all times which dugout is at sea and which is not.
The idea thus came up to launch a pilot test to bring functional and technical responses to the necessity for individual and single identification.
It is now standard practice for single identification technologies to use the Radio Frequency Identification Device (RFID ) and their progress has been rapid in the last few years.
FISHING IS THE MOST DANGEROUS PROFESSION IN THE WORLD!

Over 24,000 fishermen perish at sea every year (FAO figures).


More than 50% of the world's population lives in a coastal strip of 60km.


Billions of people are reliant on marine resources. They depend on what the fisherman brings home.


A lost boat, a lost fisherman have a vital impact on coastal communities.
A SOLUTION ADAPTED TO ITS MARKET :
Considering that trade solutions do not fully correspond to this problematic, we propose a unique solution, a number plate visible from afar, from a reconnaissance airplane, in which are encapsulated one or several electronic tags. This plate is fitted onpermanently to boats using a safety-locked and unfalsifiable screwing system which renders it impossible for the plate to be unscrewed. The electronic tag allows for registration and reading of data. That data is encrypted so as to guarantee authenticity and prevent falsification.
New pattern proposed is similar to a car number plate and has roughly the same dimensions. See schema below.

Assuming existing solution do not fit to this market, we designed a specific identification plate, so named FIP (Fishery Identification Plate).
Our model is inspired by well-know car identification plate number from where size is defined.
ID plate (hence FIP) is screwed (or glued in case of fiber-glass canoe) with security screws (breaking if unscrew attempt). Large number, flag state, QR code (referring to Administration's database) added to dual-frequency RFID tag on the back are printed with anti-spoofing curves.
It is a flexible resin plate, therefore rot-proof where the blue color of thebackground, prevents yellowing under the light.
Dimensions: 390 mm x 100 mm x 2,5 mm (thickness)

Random markings (top and bottom curves) prevent unauthorized copying


A QR code returns to the URL of the management database server. Registration is done at installation phase with the pairing of the plate and the beacon (if existing).


On the back (via the central blue circle), is fixed a dual-frequency RFID chip, associating a possible reading via a smartphone as much as at wider distance (0 to 4 / 5m) via hand-held reader.


Flag state picture + 6 digits number
Many countries, e.g. Senegal, Mauritania, Morocco, Ghana, Mozambique, Congo or Madagascar, have addressed this issue, linked to the safety of fishermen, as much as monitoring catches.
The World Bank has funded projects in this direction but more or less advanced or successful. Below, few examples
Senegal obtained a subsidy from the World Bank to install 19,000 passive sheet metal plates on its canoes. They are being installed, but I express doubts about their behavior over time. At almost € 10 one plate, we think that by increasing the budget a little (just under € 190,000), the World Bank could have offered Senegal a modern and above all more sustainable solution ... (see below picture)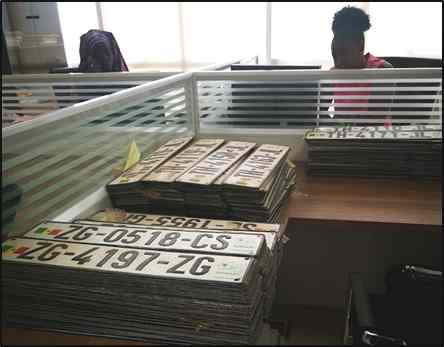 Ghana has launched an attempt to combine the license plate with a canoe insurance certificate.
Madagascar, via the SWIOFish2 program (and therefore the World Bank) launched in February 2020 a Call for Expression of Interest to recruit an international consultant, whose mission would be "... the development of procedures for issuing fishing cards and for the registration of canoes".
Ivory Coast is looking for canoes' registration solutions but above all associated funding budgets. (We have had requests in this regard)
Morocco launched two Calls for tender (2016 and 2018) but without concrete results to date (there too, we had requests but remained, without follow-up to date).
Under the aegis of international donors, such as the World Bank, ABD, AFD, or AfricInvest, these types of solutions can emerge ...
Undoubtedly, this problem remains obvious and above all, linked to cost and budget aspects! How much is the human life of fishermen and their families estimated to be?