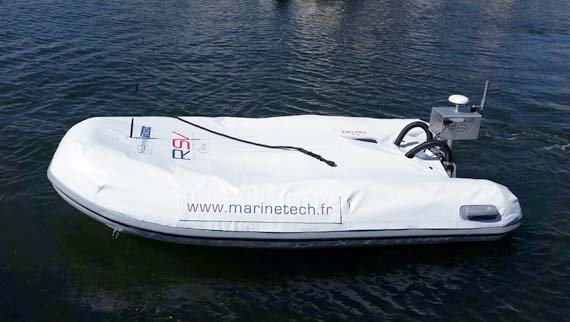 Maritime surveillance by waterborne drone
Surveillance by satellite (optical or radar) reaches its limits close to coastlines (a few nautical miles in general). Its flexibility of utilisation and bringing into play, as much as its very reasonable cost, thus account for the great the appeal of the RSV drone solution.
Added to which, transported by plane or helicopter, the RSV can be rapidly deployed across the globe.
All versions of this article: [English] [français]
In partnership with the French company , MarineTech, Maritime-Survey makes this unique solution available.

The RSV (Remote Survey Vehicle) is a light remote-controlled watercraft of semi-rigid structure equipped with multiple sensors.
It integrates navigation, communication and data acquisition tools installed in watertight modules. The RSV can go into action just as well out at sea (up to 1.5m swell and 25 knots wind) as in difficult zones (shallow waters, oilfields).
The RSV can be easily loaded onto an oil rig supply vessel.
Its main functions :
1. Analysis and bathymetric or oceanographic cartography (depending on the sensors beneath the craft: oxygen, plankton, algae, alien chemicals)
2. Surveillance of the oil rig structure: the drop in the price of a barrel has severely impacted oil companies' budgets. They now seek to make their installations more economical and to increase their shelf-life
3. Analysis of the sea depths preparatory to erecting windmills on the sea and then surveillance of the pylons installed
4. Surveillance and imaging of rock accumulation on port jetties
5. Detection and imaging of reefs, wrecks, pipelines (gas or oil leak?), shipwrecked bodies
6. Monitoring and surveillance of the laying of telephone cables or pipelines
7. Monitoring and images of port works
8. Visualisation and images of ship hulls in a port
9. Detection of underwater freshwater springs
10. Surveillance of Protected Marine Area (by day or night)
---